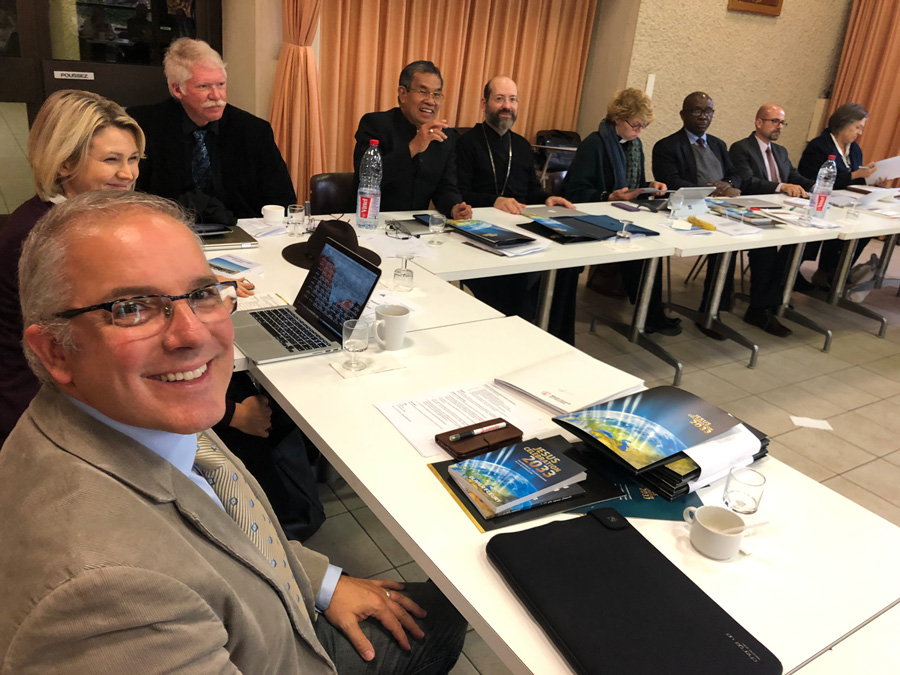 Guests at the Conference of Secretaries of Christian World Communions, Olivier Fleury and Martin Hoegger presented the project of "Jesus Celebration 2033" to some 30 leaders and invited them to reflect on a "decade of the Resurrection".
Greeted with kindness, they saw several people they had previously visited and happy to meet them again.
"This Conference is a unique space, the largest platform of Christianity, where leaders meet each year. We thank you for your initiative and will reflect on your proposal", said the chair of the meeting, Adventist pastor Dr. Ganoune Diop.
After the presentation of JC2033, O. Fleury and Mr. Hoegger invited the churches to a "decade of resurrection" between 2023 and 2033.
"It will be a decade in which we walk towards 2033 with the risen Christ among us. A decade that leads us first of all to the celebration of the three years of the earthly ministry of Jesus: 2030-2033, then to the feast of the 2000 years of his resurrection.
We invite you to a pilgrimage with the Risen One, which leads us on paths of holiness and love, service and unity, prayer and witness, justice and peace", they said. (read here the full text of the call).
They then asked the secretaries of the Christian World Communions to reflect on the common celebration of the 2000th anniversary of the Resurrection, to bear witness to this together, at the prospect of a "Resurrection Decade," as well as at a common Easter date in 2033.
"We can begin this pilgrimage already now, putting the risen Christ in the heart of our personal lives, in the heart of our churches and between our churches," concluded Olivier Fleury, director of the Association Jesus Celebration 2033.
November 2018, Geneva, by Martin Hoegger